9 Great Lake Michigan Beach Towns
9 Great Lake Michigan Beach Towns
By World Atlas
Lake Michigan, one of North America's five Great Lakes, provides an enormous shoreline that stretches across parts of Wisconsin, Indiana, Illinois, and of course, Michigan. All of this prime real estate has led to an ample supply of summertime beach towns to choose from. Though Michigan certainly has the widest array of premium spots, the neighboring states are not without their worthy additions. Plus, there are always more hidden gems to uncover. These are some of the best places to plug into your GPS this season. Let us begin by working our way steadily north along the Western Shore of Michigan's Lower Peninsula, and then see what else is in store across Lake Michigan's alluring borders.
Saint Joseph, Michigan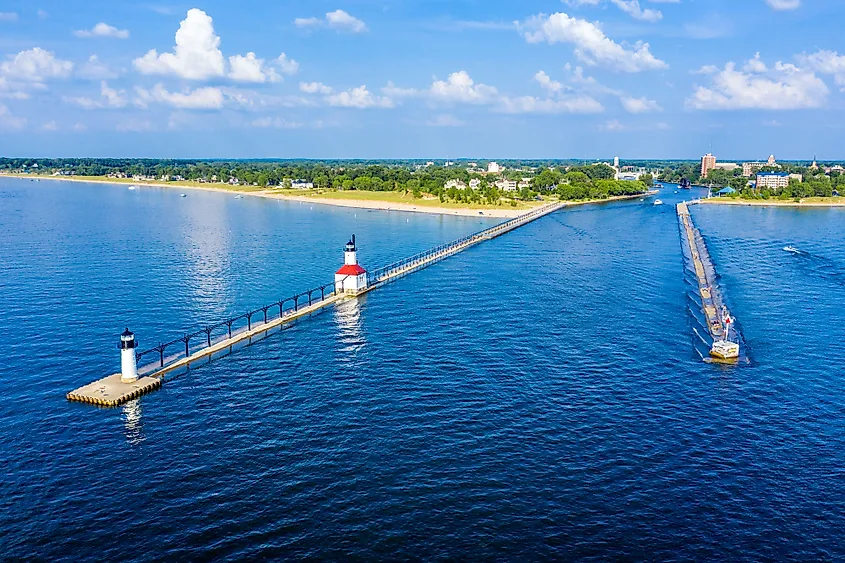 First up is the Southwestern Michigan waterfront community of Saint Joseph, or "St. Joe," in Berrien County. Given its accessible location, St. Joe attracts out-of-state visitors from nearby Indiana, as well as Illinois, particularly the greater Chicago area. The wave of Midwest tourists can fan out across Silver Beach, Grand Mere State Park, Jean Klock Park, Weko Beach, Warren Dunes State Park, Lions Park, and Rocky Gap Park. All of these enticing spots are located in and around town, and all of them offer a sandy frolick right next to the Lake.
South Haven, Michigan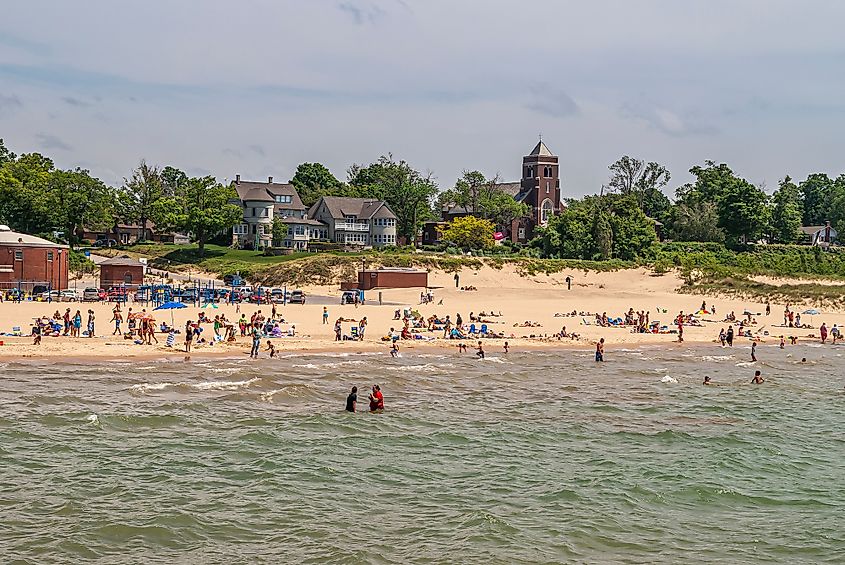 This Van Buren/Allegan County beach town is located around 25-miles up the shore from Saint Joseph. Though technically a city (a recurring theme in Michigan), the modest population of just over 4,000 residents ensures the laid-back vibes. South Haven has an excellent beach set up, with long sandy stretches sub-divided by the South Haven Piers, complete with an eye-catching, red lighthouse. Aside from the shoreline, South Haven also has a captivating downtown core, and a wealth of nearby inland lakes and nature trails to explore.
Saugatuck, Michigan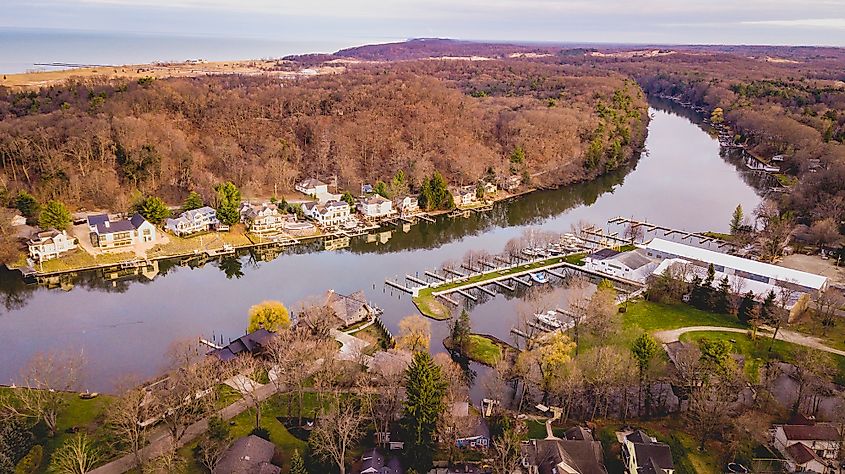 A further 20-miles up the coast from South Haven lies Saugatuck, another city, but this time with less than 1,000 residents. Saugatuck continues the waterfront wonder, not only of Lake Michigan, but the sizable Kalamazoo Lake is added to the mix. Idyllic beaches, though the most magnetic feature, are not the only attraction across this list. Saugatuck Dunes State Park is one of the best places to explore these fascinating phenomena. The 2.5-mile stretch houses dunes as tall as 200-feet. The Saugatuck splendor also continues inland, throughout the soothing forested trails.
Grand Haven, Michigan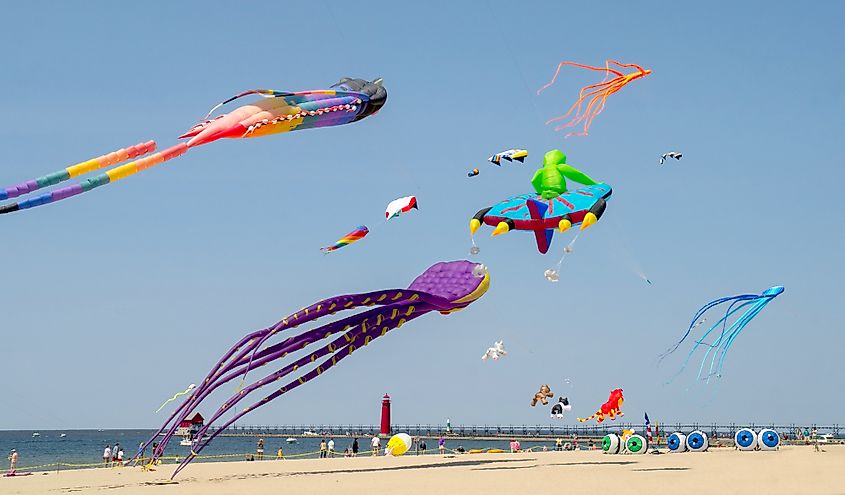 Continuing another 35-miles Northbound (or about equidistance East from Grand Rapids), the popular lakelife getaway of Grand Haven awaits. Here, visitors will have their choice between Grand Haven City Beach, Grand Haven State Park, or North Beach Park, which is actually just North of Grand Haven in Ferrysburg. For some sneaky alternatives during peak season, one can also make for Olive Shores Park, Buchannon Beach, Rosy Mound Natural Area, or Windsnest Park. Basically, if you are staying in Grand Haven, then you are never far from a natural tanning bed, a refreshing swim, or a beautiful sunset.
Muskegon, Michigan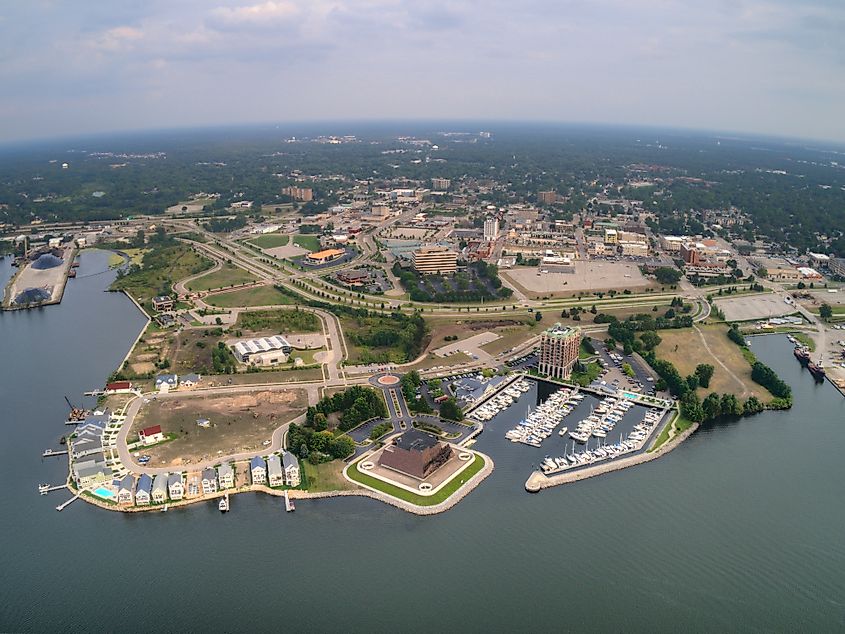 A mere 15-miles on is Muskegon, the most populous city along Michigan's Western shore, but still quaint enough for a classic "beach town" feel. This two-for-one lake special in Muskegon County provides not only the expected Lake Michigan shoreline goodness, but also the expanded bounty of Muskegon Lake, which is only separated from the Great Lake by a small ferry channel. Between these two bodies of water, there are over a dozen sites, totaling 26-miles of beaches, for visitors to choose from. To add some excitement after all the lounging, head on over to Michigan's Adventure Amusement and Water Park.
Charlevoix, Michigan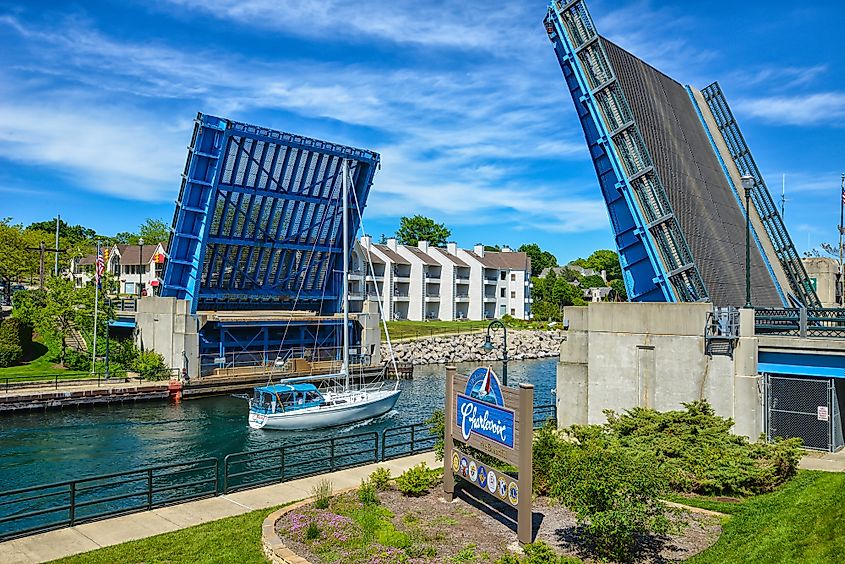 The final stop on the Michigan tour is a 190-mile Northbound haul to the Township of Charlevoix, in Charlevoix County. This spritely community sits between Lake Michigan (to the West), Loeb Bay, which is an extension of Lake Charlevoix (to the East), and Round Lake sits smack dab in the middle. Not far from town are the lovely and expansive Boyne Falls. In town, a surprising number of quality breweries, wineries, and distilleries keep the adult beverages flowing. No wonder Ernest Hemmingway spent his summers nearby. Charlevoix certainly delivers the expected Michigan waterfront beach magic, as well as some memorable quirks, like The Thatch (or Mushroom) House, which can be rented by large parties.
Beach Park, Illinois
Representing the Illinois beach town scene is the aptly named but relatively unknown Beach Park. This quiet village is part of the Benton and Waukegan townships in Lake County. Beach lovers can set up base camp here and then make for the six-miles of beaches and sand dunes in Illinois Beach State Park. Recent reviews suggest that the amenities are a little rough around the edges, but those with a bohemian beach-town attitude will not be deterred. In fact, the overgrown parking lot just adds to the aesthetic of the wild natural shoreline. The dune areas of Illinois Beach State Park harbor over 650 species of plants, so tread lightly. This area offers a basic campground, bike rentals, hiking paths, day-use facilities, and of course, the opportunity to splash around until one's heart's content.
Two Rivers, Wisconsin